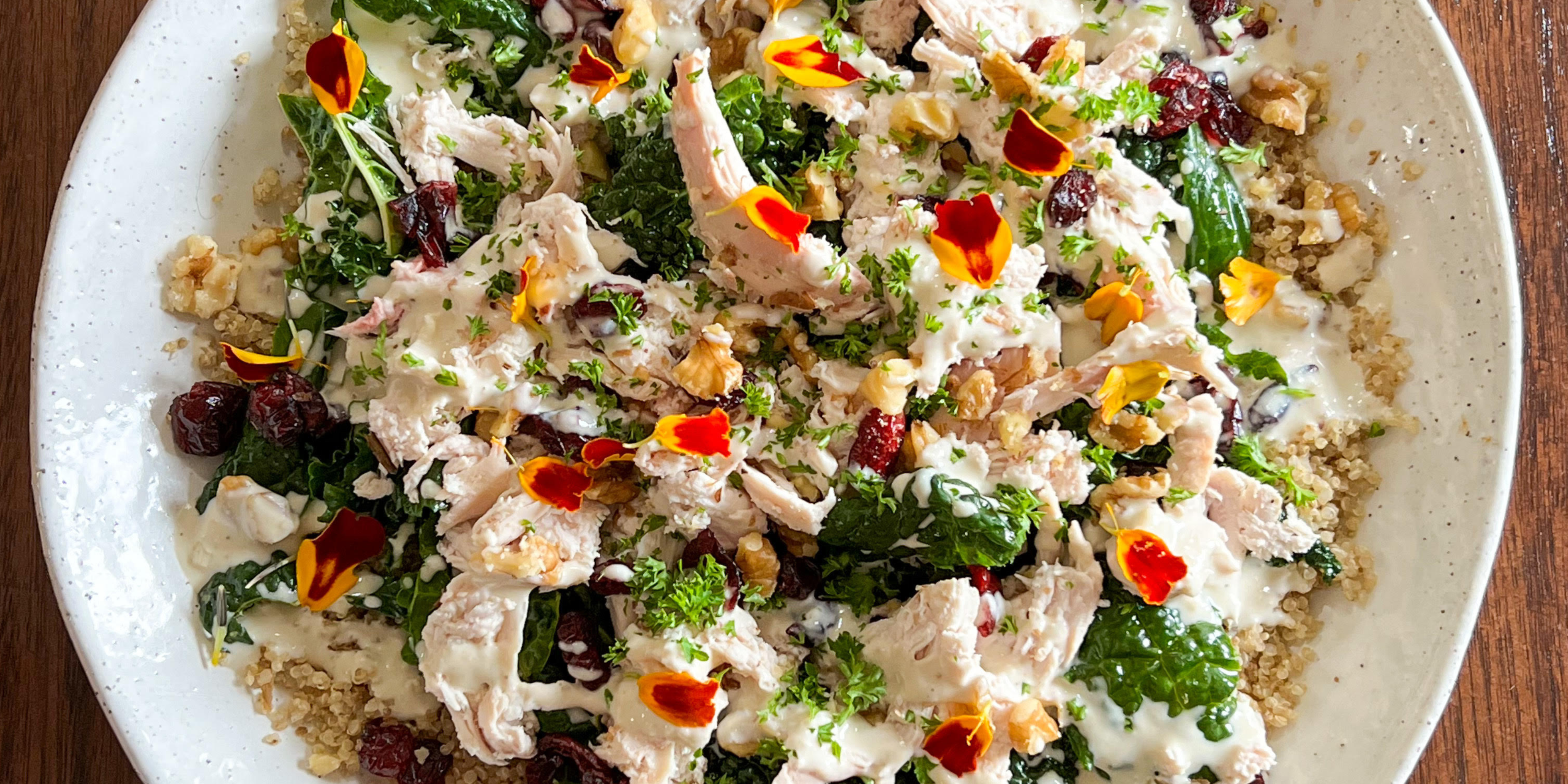 Feed My Skin this Christmas with Wholesome Festive Recipes BY Jette Saunders
I LOVE Christmas - especially the eating part. For me, it's all about getting together with family and eating mountains of great food. 
Now, I'm absolutely all for eating whatever you want during the festive season - but, if you feel so inclined to include some healthier, more skin loving options in your Christmas repertoire - look no further.
All of these recipes serve 4 as a side, simply multiply or divide to suit your numbers.
 Merry Christmas! Love Jette x
Jette Saunders - @salushealth_
Roasted Turkey and Cranberry Salad 
 A delicious way to use leftover roast turkey or chicken from Christmas lunch - or definitely worthy to be added to the main event!
Tuscan kale is packed with vitamins C, K and A which is vital in cell growth, immune function and vision. Walnuts are a powerhouse of omega-3 fatty acids and antioxidants, which keep our skin supple and protected. 
1.5 cup cooked grain (I used quinoa but freekah would be amazing!)
2 cups shredded roast turkey or chicken 
2 cups tuscan kale 
2 tbsp olive oil
Salt and pepper
1/4 cup dried cranberries 
1/4 cup chopped walnuts

Tahini dressing

3 cloves garlic
1/4 cup lemon juice
1/2 cup tahini 
1/2 tsp salt
1/2 tsp pepper
Pinch ground cumin
1 tsp honey 
4 tbsp iced water 


To make the dressing:
Place all ingredients except the water in a blender and bliss until smooth
Slowly add iced water 1 tbsp at a time while blending or whisking until it becomes creamy and dreamy

 Assemble the salad:

Start by spreading your grain onto a serving plate
Massage the kale with the olive oil and add on top of the grain
Next, assemble the turkey/chicken, then cranberries, then walnuts
Finally, generously drizzle the creamy dressing all over
For added flavour, top with fresh herbs!


Healthy prawn cocktail
For me and my family, we have always had seafood as part of our Christmas lunch. This prawn cocktail is mostly traditional, but with some slight adjustments to make it more skin lovin! Greek yoghurt contains probiotics as well as being a great source of protein, calcium and some B vitamins. Avocados are rich in healthy fats and many vitamins and minerals, and prawns are a great source of protein and many vitamins and minerals.

1 cup cos or iceberg lettuce, shredded
1 avocado, diced
600g cooked tiger prawns, peeled
Chives to garnish


Healthy cocktail sauce
1/3 cup greek yoghurt
1.5 tbsp tomato sauce
1/2 tsp tabasco
1/2 tsp worcestershire sauce
1/4 lemon juice
In a bowl, whisk together all cocktail sauce ingredients.
Assemble the dish beginning with the lettuce, avocado, prawns then cocktail sauce.
Enjoy!


Honey, cumin and sesame roasted carrots
This is just my favourite way to eat carrots. Sesame seeds are a source of natural oils, antioxidants, protein and fibre and carrots are a great source of vitamin A, K and fibre. And most importantly, they are delicious!
2 bunches dutch carrots
3 tbsp honey
1 tbsp olive oil 
1 tsp sesame oil 
1 tsp cumin
1 tbsp sesame seeds
Fresh parsley
Salt and pepper
Preheat oven to 200 degrees Celsius (fan forced) and line a baking tray
Cut the stops off the carrots (I like to leave a little greenery) and wash thoroughly
In a bowl, warm the honey in the microwave for 20 seconds. Then add olive oil, sesame oil, cumin, salt and pepper and whisk until combined
Place the carrots onto a baking tray and pour over the marinade. Use your hands to ensure that they are completely covered
Sprinkle over the sesame seeds and place in oven for 30 minutes
Remove from oven and serve topped with some fresh parsley